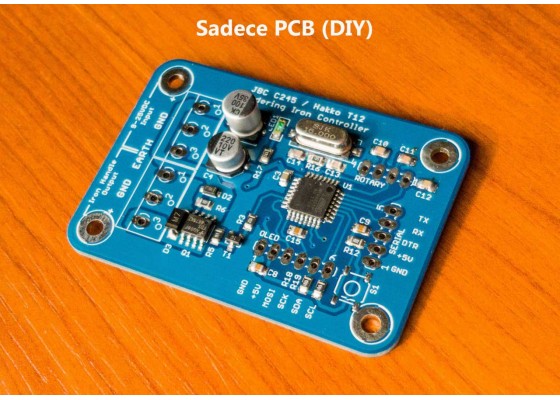 | | |
| --- | --- |
| Brand | Hazar |
| Product Number | hiron-jbc-dc |
This product is currently out of stock.
Soldering station for precise electronic reworking. Designed and produced by a fellow racer. For JBC T245 handles and C245 tips.
Works with 9-25V DC or 110-220V AC (RC power supplies, computer PSUs, 3-6S LiPo, car lighter receptable…)
Fast but not furious: Heats up in as low as 2 seconds (if using DC 24V). Can very precisely regulate its heating power.
What you see is what you get: Temperature calibrated.
Up to 200W heating power (only on JBC sets)
Goes to sleep if left on (adjustable).
Power limit: You can lower the used heating power on menu on demand. This enables using very small DC bricks/batteries; heating takes longer but you can finish the job. For DC controllers.
Starting temperature: Selectable power-on temperature, selections available for leaded/lead-free solders and more. It can remember the last used temperature as well (default setting).
Sleep: Selectable intervals or disable altogether.
Protection: If provided input voltage is out of allowed range, warning will appear.
Dimensions:
DC powered controllers: 110x55x50mm
AC/DC powered controllers: 110x155x50mm
Please select what you need:
AC/DC Controllers: will only include a fully assembled controller. No power cable included. For JBC handle and tips, please refer to your local authorized JBC distributor. Power plug and cable information is located below.
PCB: Includes one populated PCB, which you can use with T12 and JBC C245 tips. For DIY use only, DIY support will provided by designer.
Important note for AC/DC "custom PSU with limited power" version only: This option can only provide power up to %70-80, which can be set on controller menu. Currently only this option is available if you want AC, because the higher power internal PSU (power supply unit) that used in original design is no longer available. This option is made upon request and it is only available while stocks last. It is still perfectly usable on daily work. When using with DC, you can use full power, only AC is limited. Will ship with power limit setting preset to %80, for running out of the box. The power limit is verified on 220V AC supply, 110V may need lower limit, not tested.
Notes:
DC input socket: IEC 60130-10 Type B: Barrel plug with 6.0mm OD, 2.5mm ID. Click for compatible cable with clips, and also Click for lighter adapter for using it in your vehicle.
AC input socket: IEC 60320 C14: Also known as "computer cable", a very common cable. You need to provide your own cable with appropriate plug for your country.
JBC controllers will feature Hirose sockets which you can direcly plug in your original T245-A handle. Only C245 type tips supported. Especially C210 series are NOT supported.
While we are aiming for highest quality possible, this is a hand-assembled device and there may very minor cosmetic blemishes. It's actually pretty good but if you are expecting a certain fruit-named brand level quality, we are not there yet.
All controllers and DIY PCB's are electrically and functionally tested before shipping.
This item can only shipped via registered air mail. Shipping cost will calculated at checkout. Please select registered mail for shipping method and ignore others (if shown). If you don't see that option at checkout, please contact us BEFORE ordering, in most cases we can arrange it for your order.
Tracking number is provided with every shipment. It takes 7-30 working days to arrive and that speed is directly related with postal service in *your* country. Some are fast, some are exceptionally slow (Italy, Serbia, Brazil, Poland, USA, just to name a few).
You are responsible for any VAT, tariff, duty, taxes, handling fees, customs clearance charges, etc. required by your country for importing consumer goods. We do not collect this beforehand, and cannot give you an estimate of the cost - charges vary around the world.
As an international consumer, please do your research to ensure there are no surprise charges when clearing your package through customs, and to have an idea of what the additional cost may be. If you are unfamiliar with customs fees and charges, please speak to your local postal or customs office for more information. It is your full responsibility to verify the customs, duties charges, and procedures in your country prior to placing your order.
If customs fees and charges are refused at the time of delivery, your order will be returned to us and after we receive the item you will receive a refund excluding shipment costs.
We are not responsible / liable for lost or stolen packages that have delivery confirmation to the address that was provided. The customer accepts full responsibility to file any claim(s) with carrier for damaged and/or lost shipments. We are also not responsible for misdelivery errors via carrier, or incorrect shipping info provided by you.
Team-NCRC is authorized reseller for this product. All support requests should redirected to Hazar Karabay. http://www.hazarkarabay.com.tr/